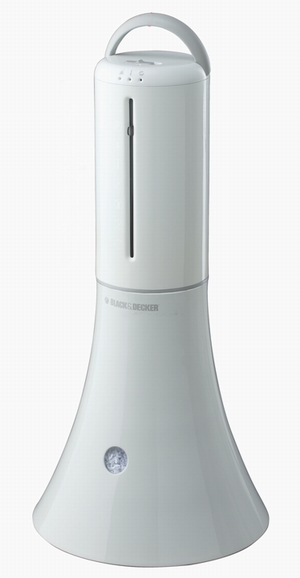 HoMedics, Inc. and TEAMS Design developed a unique new paper shredder for HoMedics' Black & Decker line
"Among the shredder concepts rendered by industrial designer Joseph Lee, one had a minimal and sleek form that was clearly unlike any shredder on the market. The design was intended to transform the appliance into a piece that can become a sculptural element in the user's home and office decor.
The tall, tapering iShred is the first paper shredder with a vertically oriented paper feed. This feature is designed to increase safety by limiting direct access to the shredder's blades; the design also allows for the shredders slimmer, conical form.
The design team sought to shake up the "dreary image" of a typical shredder, which it views as a utilitarian device lacking in aesthetics and ergonomics.
"Consumers expect a black or beige box that they have to shove under a desk," said Lee, "We updated not only the shredder's styling, but also the user's experience operating it."
The design team also addressed the ease of use when emptying the shredder bin. The bin's round shape was developed as a solution to the uneven pile of shreds that often form in rectangular shredder bins; the shreds instead fall into a naturally even pile, filling the bin efficiently. With the aid of an integrated handle, the shredder lifts off of the 1.5-gallon paper bin. The fluted bin directs the paper shreds in a narrow and controlled flow to help avoid messy emptying.
The iShred crosscuts up to six sheets of paper simultaneously into confetti-sized pieces. It is engineered with overheating protection, a full bin indicator, a 68 dB noise level, and credit card and staple shredding".